Hydrochloric Acid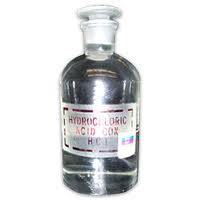 Hydrochloric Acid
Product Description
Leveraging on our experience, we are engaged in offering Hydrochloric Acid that is a highly corrosive, strong mineral acid with many industrial uses. It is completely soluble in water & organic solvents and finds its wide applications in pickling of steel, production of organic compounds, production of inorganic compounds, pH control and neutralization, regeneration of ion exchangers and many others. Further, offered Hydrochloric Acid is made available for our prestigious clients in various concentrations and quality packaging options at affordable price.
Features:
Purity
Long shelf life
Effectiveness
Highly viscous
TECHNICAL SPECIFICATION OF HYDROCHLORIC ACID
Characteristic: Requirement
Physical State: The Material as received shall be Colorless/Light Yellow clear liquid free from visible impurities
Total Acidity as: 28 to 30% (min)
(HCL % by mass)
Residue on ignition: 0.1 (max)
Iron as Fe + 3: 0.02 (max)
Fluoride (Qualitative): Negative
Packing: In 35/ 40 Kgs HDPE Carboys
Exporting Countries: - Saudi Arabia,Egypt,Iran,Isreal,Dubai,Doha Qatar etc regularly on FCL basis.
International (Water, I.M.O.) :
| | | | |
| --- | --- | --- | --- |
| Proper Shipping Name | Hydrochloric Acid | Hazard Class | 8 |
| UN/NA | UN1789 | Packing Group | II |
| Information reported for product/size | 200L | | |
Hydrochloric acid is mainly a water-based solution of hydrogen chloride gas (Hcl). This acid is highly corrosive in nature and fully dissociated in water. Hydrochloric acid is formulated using prepared by dissolving hydrogen chloride in water. This acid is widely used in laboratories for various chemical reactions and in manufacturing plants in the formulation of various other by plants. Apart from this, this acid is used in the removal of rust and scale from petroleum-based products, ores and metals.
In addition to this, hydrochloric acid is also utilized in the production of gelatin, other ingredients in food and leather processing. An estimated 20 million metric tons of hydrochloric acid are produced annually.
Per year around 20 million metric tons of acid is processed which needs extra precautions for storage and handling.
Application
Following are some of the uses of Hydrochloric acid:
Used as a laboratory reagent
Used in many industrial processes.
Leather processing
Household cleaning
Building construction
Oil production
Production of food, food ingredients and additives.