Methanol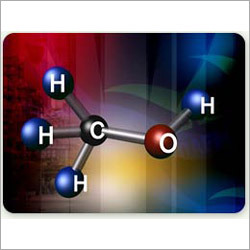 Methanol
Product Description
We have been able to attain strong market goodwill as a trusted organization, engaged in offering our clients Methanol. At our sound processing unit, we process this chemical using best quality compounds. This chemical is mixed with water and injected into high performance diesel engines. Methanol is widely used in paint, pharmaceutical, paint and chemical industry. We make available this chemical for clients in different quantity packaging options and at reasonable prices.
Features:
Longer shelf life
Free from adulteration
Accurate composition

Applications :

| | |
| --- | --- |
| Formaldehyde | DMT |
| Dyes | Drugs |
| Paints | Pesticides |
| Civil Aviation | |
It is also used as common laboratory solvent and is suitable for :
HPLC
UV/VIS spectroscopy
LCMS (because of low UV cutoff)
Methanol is mixed with water and injected into high performance diesel engines for an increase of power and a decrease in exhaust gas temperature. This is called water methanol injection.

| | | |
| --- | --- | --- |
| Methanol Content | % by wt. min. | 99.85 |
| Density at 20oC | gm / cc min. | 0.792 |
| | gm / cc max. | 0.795 |
| Water | % by wt. max. | |
| Distillation by range at 760 mm of Hg | max. (64.5oC to 65.5oC) | 1oC |
| Colour | Hazen max. | 15 |
| Residue on evaporation | ppm max. | 10 |
| Acidity as Formic Acid | ppm max. | 30 |
| Acetone (Aldehyde/Ketone) | Miscible in all proportions without development of turbidity | |
| Carbonisable matter | Apha max | 50 |
| Permagnate Test | Passes Test | |
| Sulphur total | ppm max. | 10 |
Methanol (CH3OH) is a chemical which is clear, light, colorless, volatile, flammable liquid. Methanol was earlier acquired as a decomposition of wood and now it is produced through a catalytic process utilizing carbon dioxide, carbon monoxide and hydrogen.

Applications

Methanol is widely used as a laboratory solvent, HPLC, UV/VIS spectroscopy and LCMS owing to its low UV cutoff.

Chemical Industry
Manufacturing fuel for vehicles
Producing synthesis gas
Energy carrier

Feedstock

Methanol is widely used in the formulation of various other chemicals. In formulating other chemicals, around 40% of Methanol gets converted into formaldehyde.

Fuel for vehicles

Methanol is used as fuel in internal combustion engines. Apart from this, Methanol is also used in Champcars, USAC sprint cars, Monster Trucks and in other dirt track series.

Methanol is also used as primary fuel ingredient in powerplants for radio control, control line, free flight airplanes, cars and trucks. It is also used as a primary fuel in drag racers and mud racers.

Methanol is also widely used as an oxidizer with followings to form formaldehyde:

Potassium Dichromate, K2Cr2O7
Sodium Dichromate, Na2Cr2O7
Potassium Permanganate, KMnO4

Other applications

Methanol is also known as methylated spirit and used as a traditional denaturant for ethanol.
Used as a solvent
Used as an antifreeze in pipelines and wind shield washer fluid.
Used in waste water treatment plants for providing a food source of carbon for the denitrifying bacteria.
Used as an automobile coolant antifreeze
In polyacrylamide gel electrophoresis, Methanol is used as a denaturing agent.
It is used in camping and boating stoves as fuel.


Corrosive sulphur passes test as per ASTMD 130 - 94 conforms to IS:517:1967 and BS:506:1966
Alkalinity to phenlphthalein passes BSS
Passes copper corrosive test and meets aviation grade.
Packing:
Road tankers. MS Drums.
Uses
Production of Formaldehyde.
Automotive Antifreeze.
Chemical Synthesis (Methylamines/Methyl - Chloride/Methyl Methacrylate).
General Solvents (including surface coatings, paint removers, inks and adhesives.
Aviation Fuel (for water injection).
Denaturant for Ethyl Alcohol.
Rocket Fuel.
Dehydrator for Natural gas.

Industries Served

Formaldehyde, DMT, Dyes, Drugs, Paints, Pesticides and Civil Aviation.