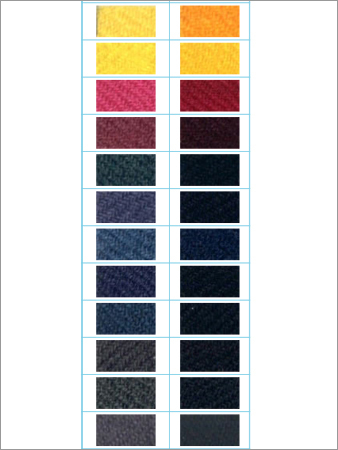 Pigments
Product Description
Our company is engaged in manufacturing and exporting a wide range of pigments. Widely used in various industries for coloring dyes, these pigments are made using high quality raw materials which are sourced reliable vendors of the market. Our offered range of pigments are widely acknowledged for their excellent baking stability, easily dispersible, excellent light & weather fastness. Furthermore, we are offering these pigments at most competitive market prices which are best for automotive and other industrial paints.

Pigments is solid colored powder which is avail in both in organic and inorganic forms used to change color. Generally, pigments are coloring agents which do no react chemically or physically.

Features of the Pigments

Excellent light

Weather fastness

Temperature resistant

High baking stability

Excellent spray fastness

Displays good solvent resistance properties
Application of Pigments
Some of the industries where pigments find wide application are:
Electronics

Ink & Substrates

Paints industries

Plastics

Automobile

Construction

Furniture

Cement

Pigments

Mostly pigments now a days are used in almost all types of industries. Hence, high quality, long-lasting and environmental friendly pigments are widely demanded in the market. Some of the applications of these pigments are listed below:

Paints

Pigments are used in various paint manufacturing industries for providing vibrant color to paints which are mainly used for enhancing the look or for ensuring protective coating. Mainly pigments find wide application in automotive finishes, emulsion paints, distempers etc.

Printing Inks

Pigments are also used in industries producing all kinds of printing inks for ensuring color efficacy, such as inks for printing metal foils, lacquers, etc.

Leather & Textile

Pigments also find wide usage in Leather & Textile industries for coloring different types of fibers such as nylon, silk, cotton, etc. Owing to its color resistant quality, improved wash-ability, resistance to heat and different types of weather conditions, pigments are used in Leather & Textile.

Coloration of Plastics

Pigments are used in plastic industries for coloration of plastics owing to superior fastness properties, weather resistant quality especially migration resistance.


Colors for Cosmetics

Pigment in cosmetic industries are used for enhancing the luxurious shades of products. Pigments which are based on calcium sodium borosilicate are used for colors of cosmetics which are also coated with iron oxides and titanium dioxide.

Coloration for Papers

Pigment are used in paper industries for diverse applications such as coloring paper pulp, tissue papers, insulation material, etc.

Pigments
Specification

NAME
COLOUR INDEX NAME
COLOUR INDEX NO.
CAS NO.
CHEMICAL FAMILY
COLOR
Alpha Blue RB200
Pigment Blue 15:0
74160-11-7
147-14-8
Copper Phthalocyanine Blue Alpha Form


Alpha Blue 15:1
Pigment Blue 15:1
74160
147-14-8
Copper Phthalocyanine Blue Alpha Form
(Solvent stable)


Alpha Blue 15:2
Pigment Blue 15:2
74160
147-14-8
Copper Phthalocyanine Blue Alpha Form
(Solvent stable/Non Flocculating)


Beta Blue 15:3
Pigment Blue 15:3
74160
147-14-8
Copper Phthalocyanine Blue Beta Form
(Solvent stable)


Green 3G 220
Pigment Green 7
74260
1328-53-6
Copper Phthalocyanine (Chlorinated)


Green 3G 230


742650
68425-85-4
Copper Phthalocyanine (Brominated Green)